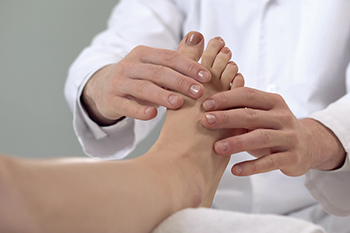 If your toddler seems to have foot pain, he or she may not be able to sleep and will often complain about walking or putting on shoes. Sometimes their foot discomfort is nothing more than growing pains that begin in the late part of the second year of life and last until age 4. Toddlers can also feel foot pain due to muscle soreness or overuse from zealous running, jumping, and climbing. However, other things may also be brewing that cause foot pain in these youngsters. Flatfoot is when the foot does not develop a normal arch. It is normal for babies to have flat feet, but if it continues beyond age 2 or 3 and the feet have taken on their shape, it can cause pain in the arch, heel, ankle, leg, hip, and back, as well as rolling of the foot. A child may also suffer from restless leg syndrome. This is a neurological condition where sensations are felt in the legs and feet. While the cause is unknown, this is found more often in small children and early walkers with allergic conditions, asthma, and eczema. It may also be due to a particular medication, anemia, or childhood diabetes. Toddler foot pain may be due to a nutritional deficiency, such as dehydration, low potassium, and magnesium. Sever's disease is a condition that develops from an injury to the growth plate in the heel. The growth plate becomes inflamed and may cause pain until the feet have finished growing. Contact a podiatrist if your child's foot pain persists or worsens. This professional can see if one of these conditions is present that needs attention and treatment.
The health of a child's feet is vital to their overall well-being. If you have any questions regarding foot health, contact one of our podiatrists of Houston Foot and Ankle. Our doctors can provide the care you need to keep you pain-free and on your feet.
Tips for Keeping Children's Feet Healthy
Make sure their shoes fit properly
Look for any signs of in-toeing or out-toeing
Check to see if they have Clubfoot (condition that affects your child's foot and ankle, twisting the heel and toes inward) which is one of the most common nonmajor birth defects.
Lightly cover your baby's feet (Tight covers may keep your baby from moving their feet freely, and could prevent normal development)
Allow your toddler to go shoeless (Shoes can be restricting for a young child's foot)
Cut toenails straight across to avoid ingrown toenails
Keep your child's foot clean and dry
Cover cuts and scrapes. Wash any scratches with soap and water and cover them with a bandage until they've healed.
If you have any questions, please feel free to contact our offices located in Kingwood, Humble, The Woodlands, and Conroe, TX . We offer the newest diagnostic and treatment technologies for all your foot care needs.
Read more about How to Care for Your Child's Feet